Dermatologically Developed and Tested
Acne Solution by Mesoestetic®
Acnelan is an innovative method for the topical treatment of acne-prone and seborrhoeic skins.
Developed in collaboration with prestigious group of specialist dermatologists to offer maximum efficacy, safety and quality in dermo-cosmetic treatments.
Multi-factorial, cross-cutting, simultaneous approach to the various factors that trigger the signs and symptoms of acne.
The exclusive m.acne complex™ contains synergistic active substances that provide integral cleansing and renewal of acne-prone seborrhoeic skins.
THREE SESSIONS AT THE DOCTOR'S OFFICE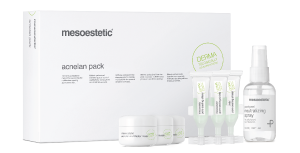 MESOESTETIC® ACNELAN PACK
Medical method for intensive treatment of acne-prone and seborrhoeic skin. Deep cleanses blocked pores, removing impurities and improving the skin texture.
To be performed by doctor in 3 sessions. After that, patients follow with complimentary products, "acnelan home care treatment" at home.
MESOESTETIC® PURIFYING MOUSSE CLEANSER (150ML)
This daily cleansing mousse deeply cleanses and purifies acne-prone and seborrhoeic skin. The light formula contains urea to soothe irritation and soften the skin, and chlorhexidine to inhibit the growth of microorganisms. Refreshing agents cleanse impurities from the skin, leaving it feeling soft and comfortable.
All the products in this line are formulated with the exclusive m.acne complex to target the different factors that trigger acne.

MESOESTETIC® PURE RENEWING MASK (100ML)
Using both chemical and mechanical methods of exfoliation, this weekly use mask is ideal for keeping control of oily and acne-prone skin. Inert pellets in the exclusive m.acne complex clear the skin of dead skin cells and impurities, while the bexaretinyl complex stimulates cellular renewal.
The addition of kaolin helps to absorb excess sebum to prevent build-ups of oil, and keeps the skin smooth and soft.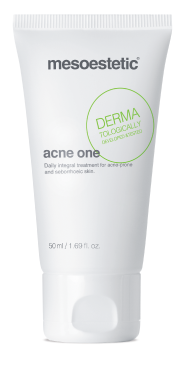 MESOESTETIC® ACNE ONE (50ML)
This treatment cream is specifically designed for the daily control of acne-prone and seborrhoeic skin. The unique blend of active ingredients in the m.acne complex stimulates exfoliation, limits sebum production, controls bacteria and reduces redness.