Advanced Dermapeel by Mesoestetic®
Mesopeel® is the most advanced range of chemical peels available here with your chosen professional.
Renew and enhance skin.
100% customised safe and extremely effective treatments
For all skin types and ages
Eliminates imperfections
Treat any type of aesthetic condition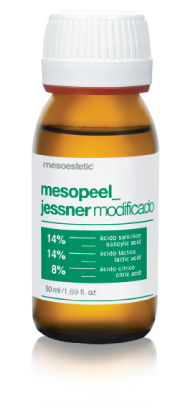 MESOESTETIC® MESOPEEL® MODIFIED JESSNER
Broad spectrum peel for dark spots, irregular skin tone, ageing.
Salicylic acid 14% + lactic acid 14% + citric acid 8%
Salicylic acid: beta-hydroxy acid (BHA) which has a powerful keratolytic and comedolytic effect. It has anti-inflammatory, antimicrobial, astringent and anti-ageing properties.
Lactic acid: alpha-hydroxy acid (AHA) stimulates thickening of the epidermis and the dermis, while favouring the increase in the concentration of hyaluronic acid in the extracellular matrix, enhancing firming and moisturising the skin.
Citric acid: alpha-hydroxy acid (AHA) with chemoexfoliating, anti-oxidant and antiaging properties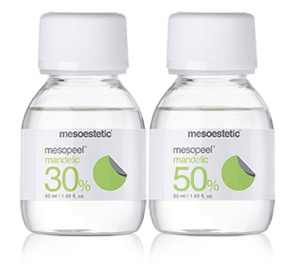 MESOESTETIC® MESOPEEL® MANDELIC
Mandelic acid is an alpha-hydroxy acid (AHA) that works by breaking the protein bridges between the corneocytes, causing them to come loose.
It stimulates collagen and proteoglycan synthesis encouraging the process of cutaneous rejuvenation. Due to its larger molecular size it penetrates at a lower rate than glycolic acid for gentler, more progressive chemoexfoliation.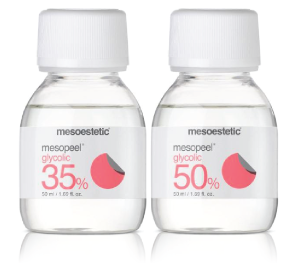 MESOESTETIC® MESOPEEL® GLYCOLIC
Glycolic acid is one of the most frequently used alpha-hydroxy acids (AHA). It is highly efficient for controlling and reactivating cell synthesis processes.
Its high cutaneous tolerability and small molecular size offer great transdermal penetration capacity. The keratolytic effect encourages the outer layers of the stratum corneum to peel by altering corneocyte cohesion.
It encourages cellular regeneration and promotes glycosaminoglycan synthesis while increasing levels of moisture in the epidermis and reinforcing the skin's natural barrier function.