Professional protection from UV radiation
Sun is a source of life, and is necessary for the development of life. However, solar radiation may have a harmful effect on our bodies. UV rays penetrate deep into the skin and often cause sunburn and irreversible skin damage, extension and fracture of capillaries and sometimes even neoplastic transformations. They also accelerate the ageing processes in the skin.
SUNBRELLA products ensure effective and long-lasting protection from UVA and UVB radiation – from SPF 15 to SPF 50+. They contain RonaCare AP – an innovative and intelligent active ingredient which provides the skin with advanced protection from the effects of sunlight (24 h when used correctly). SUNBRELLA dermocosmetics by Dermedic provide the skin with effective protection from the harmful effects of UV radiation.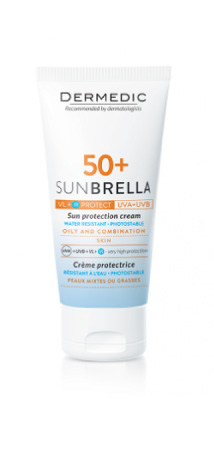 Sun Protection Cream Oily and Mixed Skin SPF 50+ (50g)
Provides effective and long-lasting protection from UVA and UVB radiation – SPF 50+
Calms irritations and seborrheic inflammation
Does not clog pores
Photostable and waterproof
Hypoallergenic
Recommended for oily and combination skin – protection from UVA and UVB radiation during sun exposure.
Complex of UVA and UVB filters, Advanced Protection System, Rosemary extract, Tussilago Farfarae, Allantoin, Glycerine, Thermal water
Apply evenly a minimum of 15 minutes before exposure to the sun. Re-apply several times during sun exposure.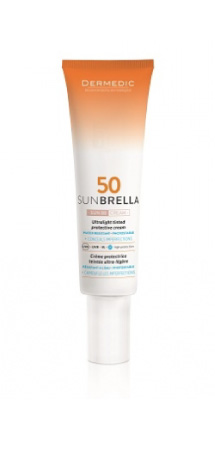 Ultralight Protective Colouring Cream SPF 50 (40g)
Provides effective and long-lasting protection against UVA, UVB and IR radiation
Unifies skin colour and makes the skin look brighter
Soothes and stimulates epidermis regeneration
Ensures the optimal level of skin moisturisation
Waterproof and photostable
Clinically tested
Hypoallergenic
Recommended for every sensitive skin type and for skin with discolouration spot
Physavie®, UV Filter Complex, Allantoin, DNA Prote
Apply evenly to the face at last 15 minutes before exposure to the sun. Repeat application frequently especially after contact with water