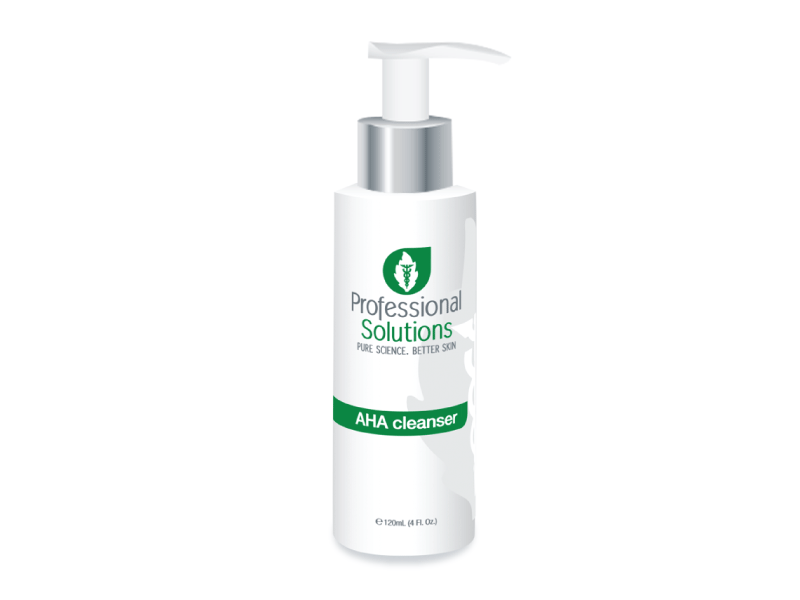 AHA CLEANSER (120ML)
A softening and thorough face wash with Glycolic Acid. Lifts dirt, oil and dead cells for smoother, healthier, brighter-looking skin.
Deep cleansing
Effectively treats problematic & oily skin
Purified Water (Aqua), Sodium Olivate, Glycolic Acid, Glycerin, Rosa Rubiginosa (Rosehip) Seed Oil, Helianthus Annuus (Sunflower) Seed Oil, Chamomilla Recutita Flower Oil, Citrus Paradisi (Grapefruit) Oil, Citrus Medica LimonumFruit Oil, Calendula Officinalis Seed Oil, Chondrus Crispus (Seaweed) Extract, Eriobotrya Japonica Extract.
Wet face with warm water. Dispense AHA Cleanser into your hand and massage onto your face in a circular motion, working into a lather.
Use caution around eye area. Rinse thoroughly with warm water.
Use morning and evening. Follow with any Exfoliator.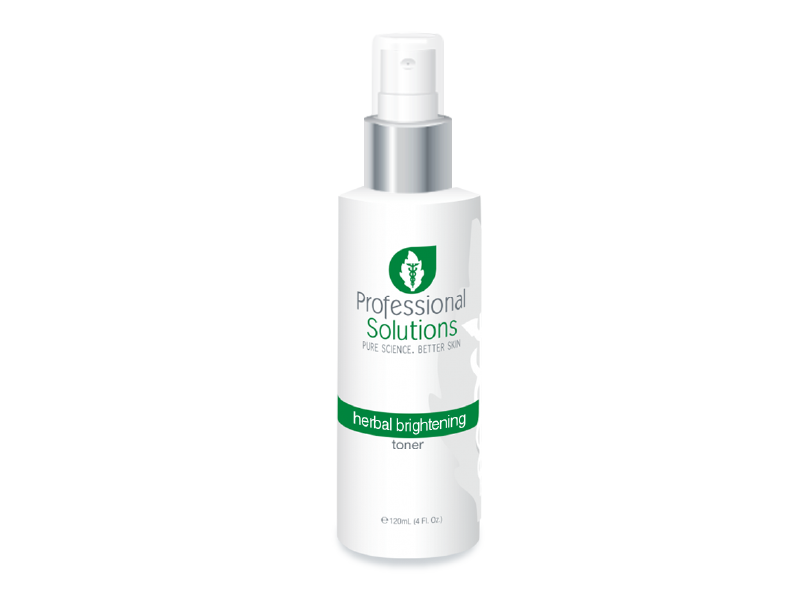 HERBAL BRIGHTENING TONER (120ML)
Has powerful antioxidant properties with witch hazel, a popular astringent ingredient. It helps to minimize the appearance of oiliness and enlarged pores while gently removing dirt and oil from the skin's surface.
Helps shrink the appearance of pores
Helps to balance the skin
Minimizes oily buildup
Tones and hydrates the skin
Water (Aqua), Hamamelis Virginiana Water, Propanediol, Pentylene Glycol, Phenethyl Alcohol, Glycerin, Calendula Officinalis Flower Extract, Aesculus Hippocastanum Seed Extract, Arnica Montana Flower Extract, Benzoic Acid, Centella Asiatica Extract, Equisetum Arvense Extract, Fucus Vesiculosus Extract, Ilex Paraguariensis Leaf Extract, Hedera Helix Extract, Sodium Hyaluronate, Phenoxyethanol, Glycyrrhiza Glabra Root Extract, Ethylhexylglycerin, Lavandula Angustifolia Flower Extract, Symphytum Officinale Leaf Extract, Pottasium Sorbate, Citrus Limon Peel Extract, Arctium Lappa Root Extract, Sodium Benzoate, Tetrasodium EDTA.
After cleansing, saturate cotton ball with Herbal Brightening Toner. Apply to face in a circular motion.
Avoid eye area. For optimal results, follow with a moisturiser to replenish moisture. Recommended for use on oily or normal skin.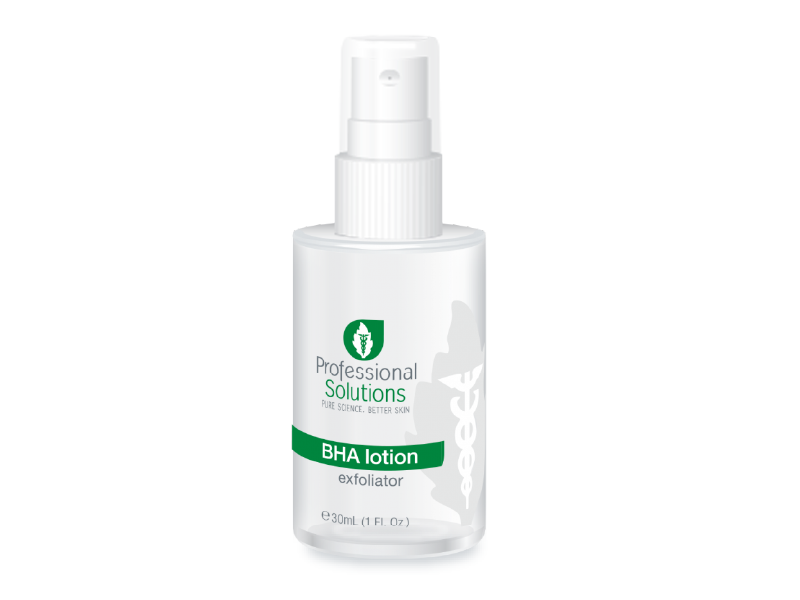 BHA LOTION (SALICYLIC) (30ML)
Excellent for the treatment of problematic skin. Light yet incredibly effective with the therapeutic properties of Salicylic Acid. Moisturizes the skin as it removes oils on the surface or trapped in the pores, leaving skin visibly rejuvenated.
Dissolves facial oil
Exfoliates to clear pores
Hydrates and moisturizes
Hydrates problematic skin
Chondrus Crispus (Seaweed) Extract, Purified Water (Aqua), Ethanol Denatured, Hyaluronic Acid, Salicylic Acid, Acrylates/C10-30 Alkyl Acrylate Crosspolymer, Phenoxyethanol, Ethylhexylglycerin.
Dispense about a dime-sized amount onto your fingertips and smooth sparingly onto clean skin, avoiding direct contact with eyes. During the day, follow with the appropriate sunscreen, or your foundation with sunscreen.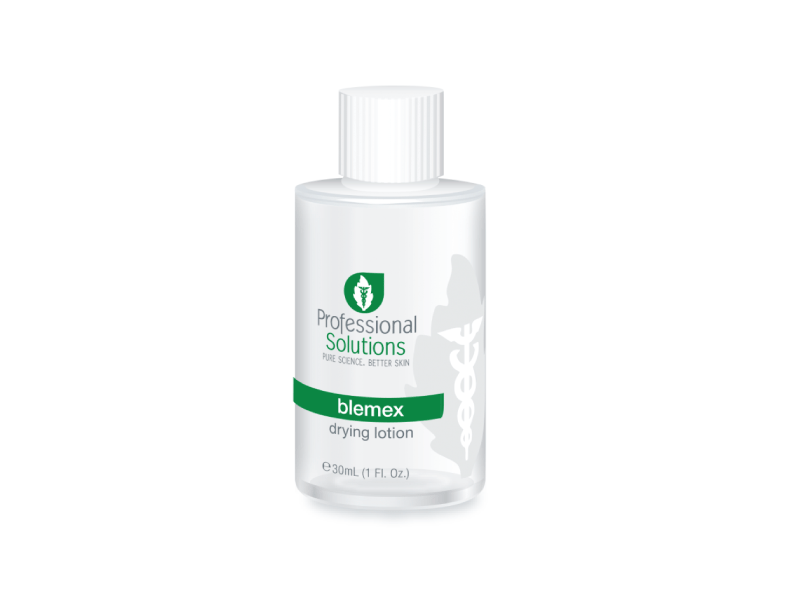 BLEMEX DRYING LOTION (30ML)
A specific spot treatment designed to dry out the affected areas, reduce swelling and dissolve dirt and oils that contribute to problem spots while you sleep. Sulfur, Salicylic Acid and Zinc Oxide are the 3 vital ingredients to extract the negative components from the affected area.
Helps dry the affected area
Helps reduce swelling and irritation
Helps dissolve oils and impurities
Goes to work overnight while you sleep
Purified Water (Aqua), Isopropyl Alcohol, Colloidal Sulfur, Zinc Oxide, Salicylic Acid, Magnesium Aluminum Silicate, Camphor, CI77489 (Iron Oxide).
Apply in the Evening (recommended just before bedtime). Do not shake. Dip Q-tip into sediment at the bottom of bottle and dab onto affected area.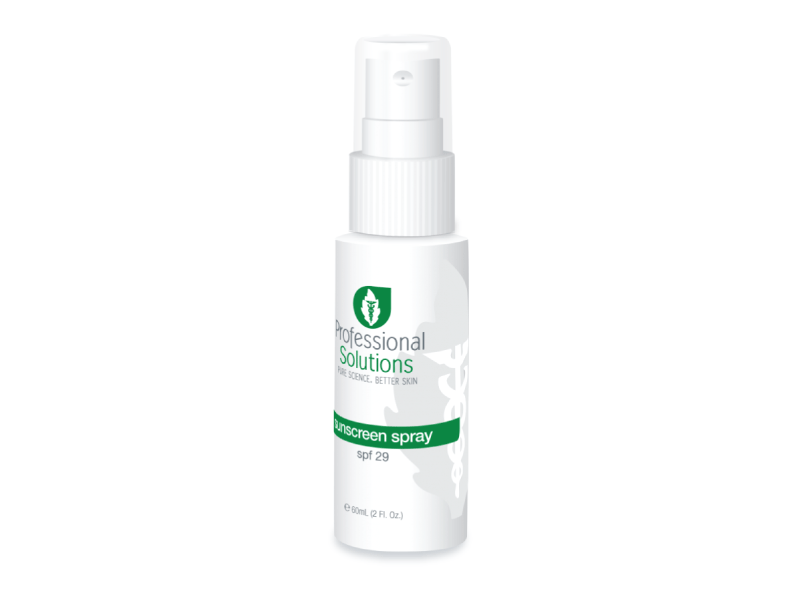 SUNSCREEN SPRAY SPF 29 (60ML)
Using Micronized Titanium Dioxide, in conjunction with Octinoxate and Oxybenzone to refract and absorb harmful UV rays. The Titanium Dioxide's high refractive index helps deflect & scatter light particles over a greater surface area, increasing the extent of Octinoxate and Oxybenzone UV absorption capabilities.
SALICYLIC ACID EXFOLIATOR 2%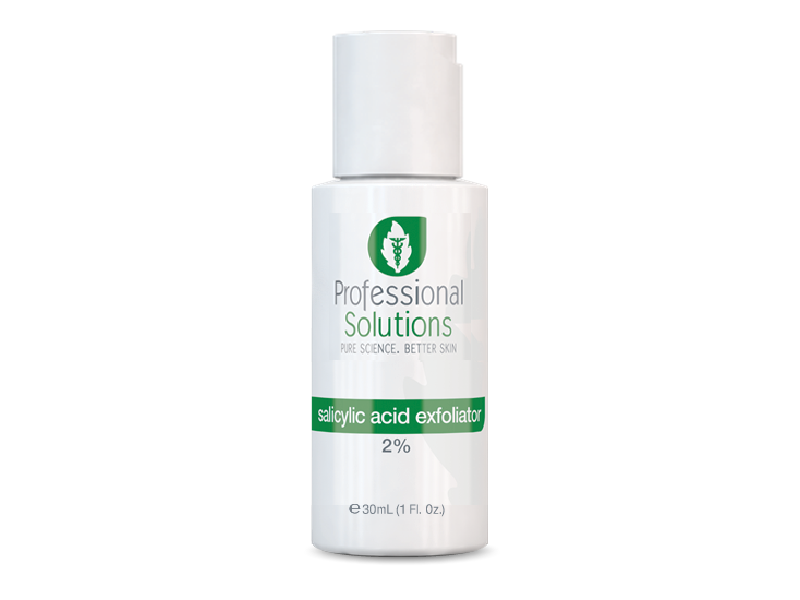 SALICYLIC ACID EXFOLIATOR 2% (30ML)
Professional Solutions' Salicylic Acid Exfoliator 2% offers a liberating exfoliation experience in a novel and powerful formula. Thanks to the deep pore cleansing, superficial peeling and revitalizing properties of Salicylic Acid, this hard working exfoliating agent is a tried and tested solution to both problematic skin types, and skin rejuvenation.
Opens clogged pores
Refreshes and renews the surface of the skin
Helps tighten and improve skin texture
Assists in the reduction of fine lines and wrinkles
Purified Water (Aqua), Alcohol Denat, Salicylic Acid.
Use in the evening after cleansing, as often as tolerated. Saturate gauze pad with Salicylic Acid Exfoliator 2% and gently buff skin.
Rinse with cool water to neutralize. Follow with a moisturer to replenish moisture.
Recommended for use on oily or problematic skin.
FRUIT ACID GEL 7.5% WITH KOJIC ACID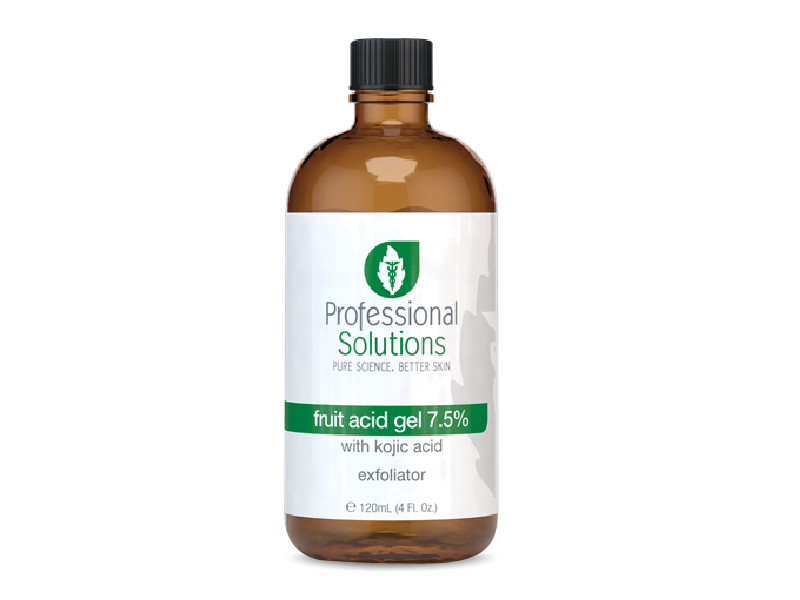 FRUIT ACID GEL 7.5% WITH KOJIC ACID (120ML)
Fruit Acid Gel is a blend of Pyruvic Acid, Lactic Acid, Glycolic Acid, and Kojic Acid. Pyruvic Acid effectively calms overactive skin while Glycolic Acid, which has the smallest molecular size, sinks in deep to firm, brighten and reduce the appearance of fine lines and wrinkles. Lactic Acid, which can be found naturally in milk, re-texturizes as it hydrates. Together in an easy-to-apply gel base, these powerful AHA's exfoliate and renew to reveal a youthful complexion.
Treats blemishes caused by clogged pores
Softens and exfoliate dead skin cells
Brightens skin
Purified Water (Aqua), Glycolic Acid, Kojic Acid, Xanthan Gum, Lactic Acid, Pyruvic Acid.
Dispense a small amount of Fruit Acid Gel with Kojic Acid to your fingertips and smooth over entire face and neck.
Leave on for 1 to 3 minutes, depending on tolerance. Rinse with cool water to neutralise the solution.
For best results follow with a moisturiser. Recommended for use on all skin types.