Skin prone to extended capillaries and symptoms of acne rosacea.
This type of skin easily becomes red under the influence of the following factors: incorrect diet, stress or atmospheric conditions. Initially, erythema is of a transient nature, but with time it becomes permanent in the form of widened blood vessels (telangiectasia).
Capillary skin is particularly sensitive, while the presence of erythema is often accompanied by burning and itchiness of the skin. This skin type is also prone to lesions symptomatic of acne rosacea.
The ANGIO dermocosmetic line by Dermedic is a guarantee of comprehensive treatment of capillary skin and skin showing symptoms of acne rosacea.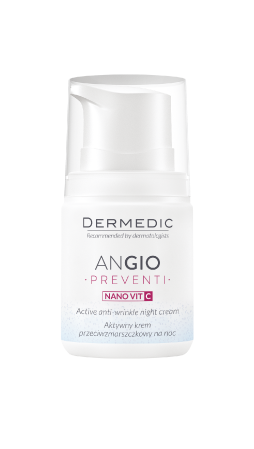 Active anti-wrinkle night cream 55g
Rebuilds the skin's lipid structure and improves its hydration level
Minimizes erythema
Protects, strengthens and shrinks the capillaries
Calms irritations and redness of the skin
Clinically tested
Hypoallergenic
Vitamin C enclosed in nanosomes, Troxerutin, Arnica Extract, Olive Oil, Phytosqualan – Squalane, Avocado Oil, Vitamin E
Apply an even layer to face and leave it to be absorbed.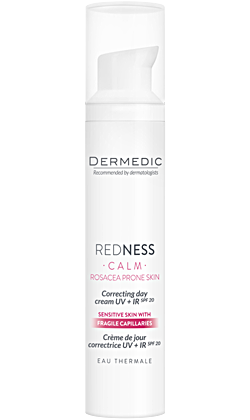 Correcting day cream UV+IR Spf20 40ml
Nourishes, strengthens & protects vascular skin
Noticeably reduces the visibility of dilated blood vessels (ORC optical erythema correction system)
Evens out skin tone
Reduces swelling & soothes irritation
Prevents new redness
Protects against excessive overheating of skin
Reduces inflammatory responses
Slows down thermal aging of the skin
Helps skin restore its normal protective functions
Contains UV+IR filter complex (SPF20)
Hypoallergenic with thermal water, non-comedogenic
Clinically tested
Rosashield Complex, Neutrazen™, Arnica Extract, Physavie®, UVA + UVB Protective Filters, Chlorophyll, Glycerin, Allantoin.
Cream dedicated to daily skin care. Apply an even layer of the preparation to the face, neck and décolleté and leave to absorb.