Extremely dry skin in need of intensive hydrating care
Water is necessary for the correct functioning of our bodies as its deficiency results in dehydration, inhibiting the operation of our bodily organs. This, in turn, may disturb our vital life processes. Even a minor water deficiency in the skin may lead to serious interruptions in cellular renewal processes and disruptions to the skin's protective systems. The essential active ingredient: hyaluronic acid – ensures that the skin is always appropriately hydrated. It strengthens the skin and leaves it in an excellent condition. Cosmetics containing hyaluronic acid deliver in-depth hydration, slow down the ageing process, and help the skin tissues regain their elasticity.
HYDRAIN3 dermocosmetics by Dermedic constitute a complete hydrating facial care line recommended for dehydrated or dry skin.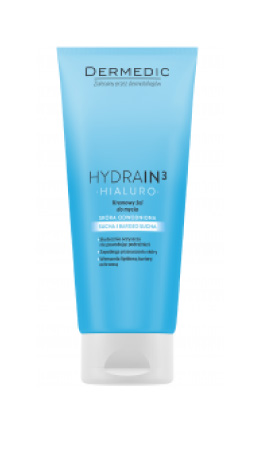 Creamy Cleansing Gel (200ml)
Removes make-up and all impurities
Without SLS and SLES – does not irritate the skin and leaves its natural hydro-lipid layer intact
Suitable for people suffering from intolerance to traditional cleansing products
Hypoallergenic
Recommended for sensitive, dry or very dry facial skin.
Thermal water, Hyaluronic acid, Macadamia oil, Marine algae
Apply a small amount to moistened skin, massage gently in circular motions, rinse thoroughly.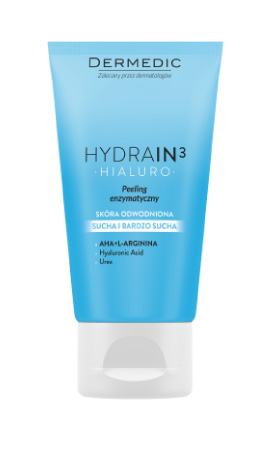 Gently exfoliates dead epidermal cells
Facilitates the absorbance of skin care products
Does not irritate the skin as much as mechanical peeling
Does not make the skin dry
The skin needs no rinsing after treatment
Hypoallergenic
Recommended for gentle cleansing of sensitive and dry skin.
Thermal water, Complex of AHA acids and L-arginine (6%), Hyaluronic acid, Urea, Glycerine, Allantoin
Apply quite a thick layer of the product evenly to the skin of the face / if required, also neck and décolletage / and leave it to be absorbed for approx. 15-20 minutes. Remove excess of the product with a tissue or cotton pad.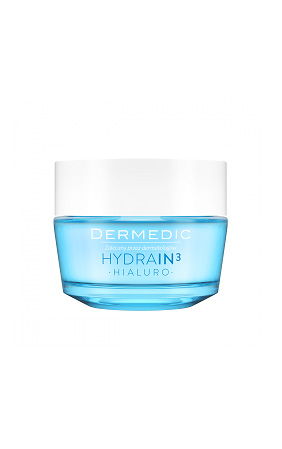 Ultra-Hydrating Cream-Gel (50g)
Provides intensive, in-depth and long-lasting hydration which can be felt 48 hours after application
Replenishes moisture in the skin and limits the transepidermal water loss (TEWL)
Strengthens and regenerates the skin
For all skin types in need of hydration
Light, non-greasy, cream-gel consistency
Ideal as a make-up base
Does not clog pores
Thermal water, Hyaluronic acid, AqualareTM, Urea-UREA, Glycerine, Dub Diol, Betaine, Phytosqualan – Squalane, Vitamin E
Apply evenly to a cleansed face, neck and décolletage and leave it to be absorbed.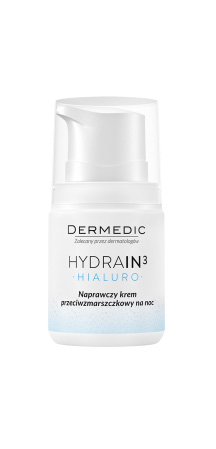 Anti-Wrinkle Repair Night Cream (55g)
Reduces wrinkles, improves skin's firmness and elasticity
Stimulates synthesis of type I and IV elastin and collagen, improving skin's firmness
Concentrated quantity of active ingredients
Has a rejuvenating and nourishing effect
Improves the skin's condition
Prevents water loss from the epidermis
Hypoallergenic
Recommended for intensive anti-ageing care of sensitive, dry and dehydrated skin.
Thermal water, Hyaluronic acid, Argan oil, Lipomoist, Shea butter, Unsaturated fatty acids: Omega 3, Omega 6, Omega 9, Vitamin E
Apply evenly to the skin of the face, neck and décolletage and leave it to be absorbed for approx. 15-20 minutes.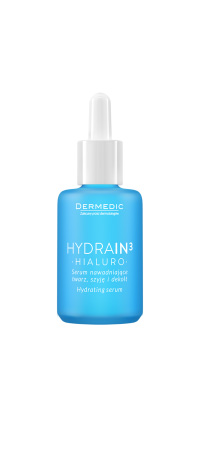 Hydrating Serum for Face, Neck & Décolletage (30ml)
15% – the highest concentration of hyaluronic acid allowed in cosmetics
It immediately smoothes the skin
Firms and protects against premature aging
It does not clog the pores
Delicate consistency perfect for makeup
For day and night use
Hypoallergenic
Recommended for dry and very dry skin at times of excessive skin dehydration or interchangeably with Hydrain3 cream to reinforce the essential skin care routine.
Thermal water, Hyaluronic acid 15%, Almond oil, Vitamin E, Glycerine, Phytosqualan – Squalane
Apply evenly to the skin of the face, neck and décolletage and leave it to be absorbed