2 IN 1 MICROCRYSTAL AND DIAMOND DERMABRATION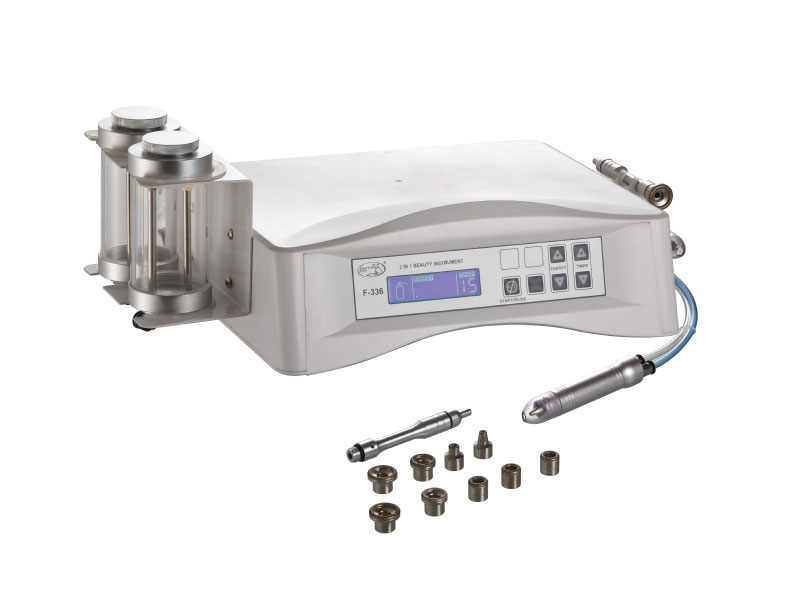 F336A 2 IN 1 MICROCRYSTAL AND DIAMOND DERMABRATION
水晶钻石微雕美肤磨皮

A beauty instrument with an innovating and elegant design. It combines 2 functions in a single instrument diamond microdermabrasion and aluminium oxide microcrystal microdermabrasion. A clinically proven and celebrated skin resurfacing treatment that offers flawless results for problem skin, pigmentation, lines and wrinkles, scarring and body treatments.
2 In 1 Microcrystal and Diamond Dermabration was conclusively proven to dramatically and visibly improve the texture and appearance of the skin, reducing and smoothing lines and wrinkles and producing more rejuvenated skin.
MULTI-POLAR RADIO FREQUENCY MESOTHERAPY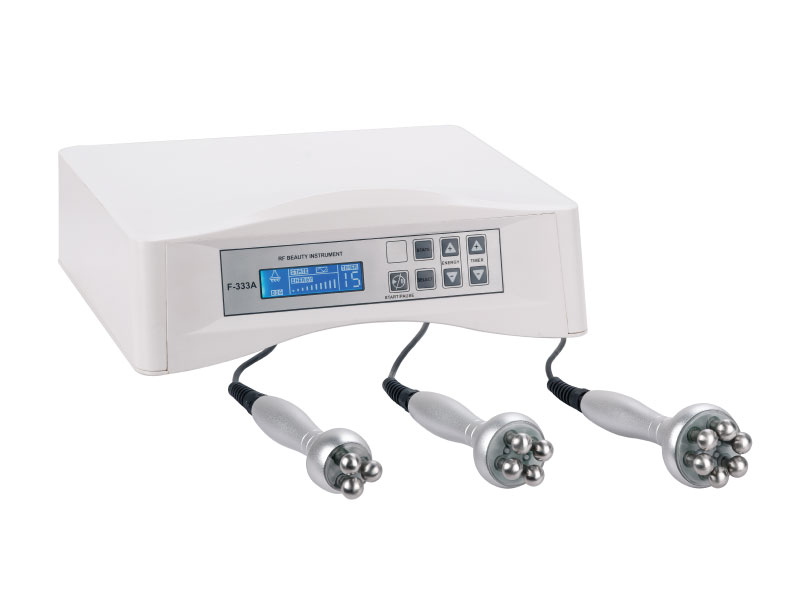 F-333A MULTI-POLAR RADIO FREQUENCY MESOTHERAPY
多极电波美塑疗法

Multipolar radiofrequency instrument that reaches the deepest layers of the dermis in order to improve the skin tone and its elasticity in a non-invasive method. Equipped with 3 probes for the face, hands and body.
Reduction of fine lines and wrinkles
Tighter, firmer, lifted skin
Enhanced circulation
Improved lymphatic drainage
No downtime.
4 IN 1 MULTIFUNCTIONAL ULTRASONIC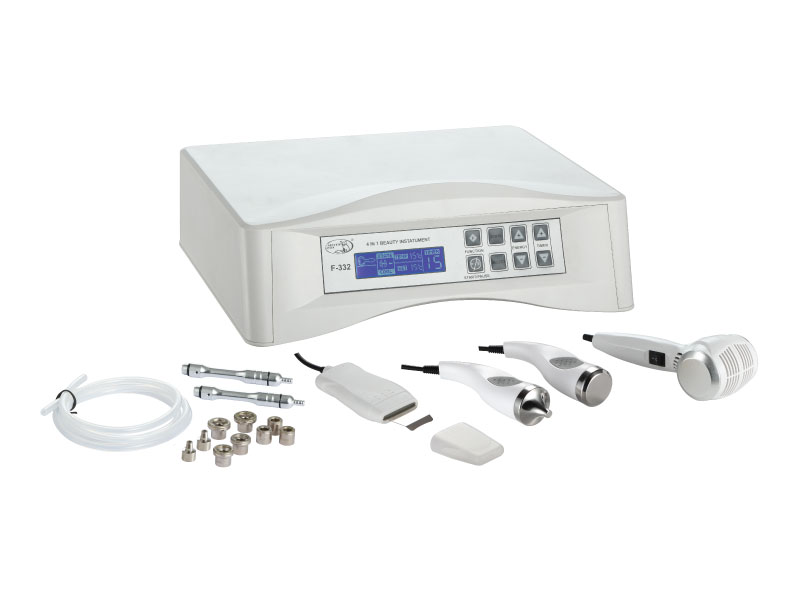 F332 4 IN 1 MULTIFUNCTIONAL ULTRASONIC
4合1多功能超声波

Beauty instrument that combines 4 functions: diamond microdermabrasion, ultrasound, hot and cold hammer and skin scrubber. Ideal for deep cleaning and to improve the cellular metabolism, smooth skin and enhance product absorption.
RF MONOPOLAR RADIO FREQUENCY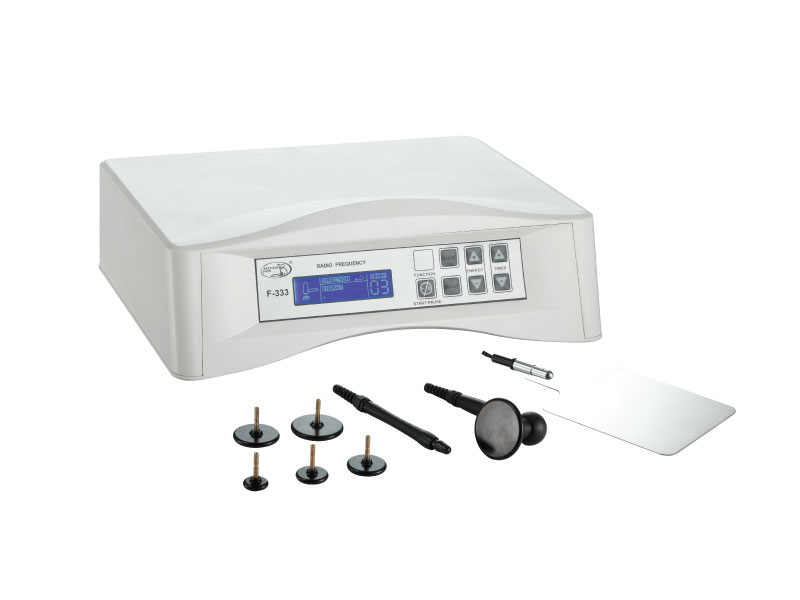 F333 RF MONOPOLAR RADIO FREQUENCY
单极电波美塑疗法

Radiofrequency instrument used in aesthetic facial treatments. Ideal for toning and sculpting the body. The equipment applies heat onto the body which stimulates collagen fibres and contributes to eliminate sagging areas. Equipped with 2 handles and 7 heads.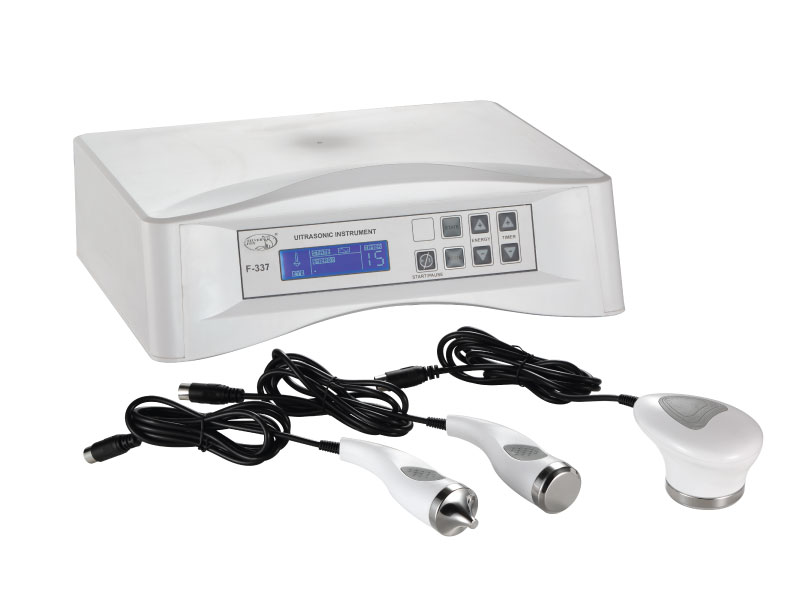 F337 ULTRASONIC
超声波

Ultrasound instrument with body, facial and orbicular electrodes. This digital Ultrasound unit accelerates the beneficial effects of products on the skin, providing a warming feeling on the skin that promotes blood flow and regeneration of the facial tissue. It emits two kinds of wave (continuous and pulsed) to be chosen depending on the treatment.
Ideal for facial treatments and body slimming.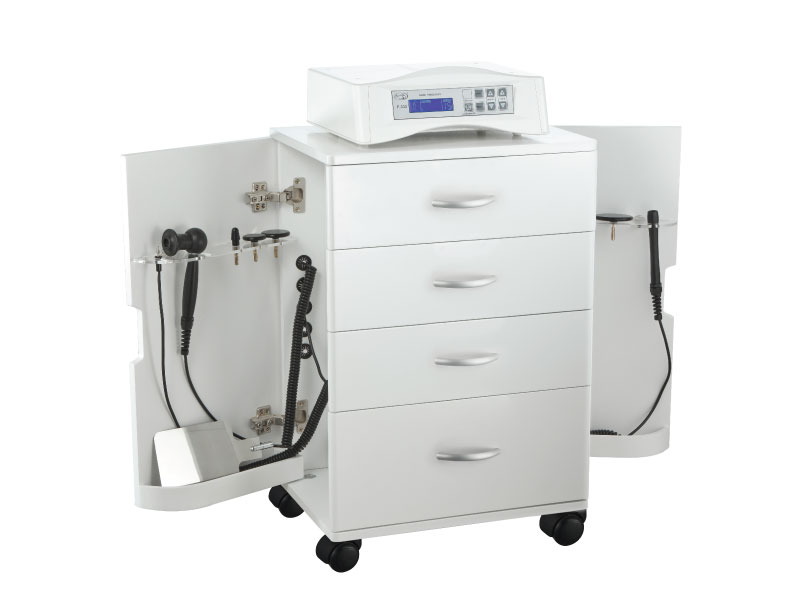 3050D TROLLEY
多设备美容工具推车

White lacquered trolley to fit 1 beauty instrument from the MultiEquipment series. Equipped with 4 drawers and 2 side doors designed to store the accessories. The 4-wheel base eases the unit mobility.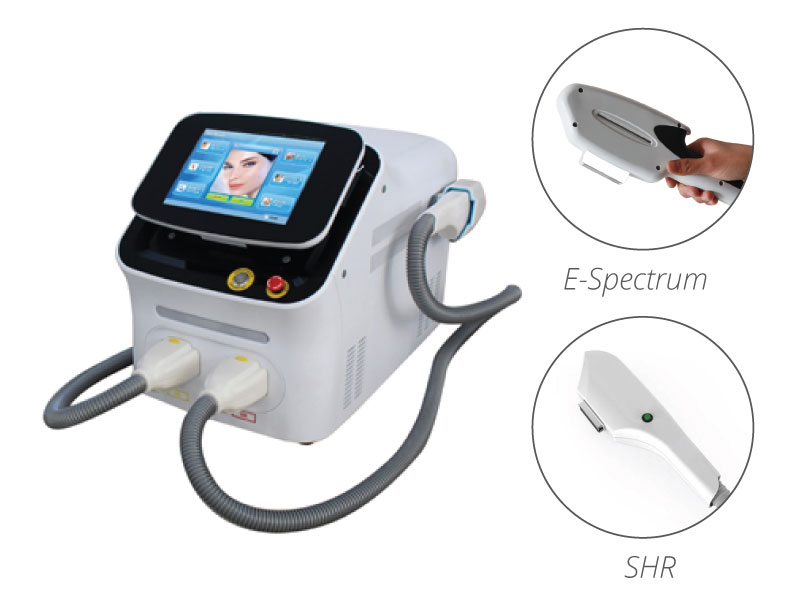 IPL + RF (E-SPECTRUM)
脉冲光脱毛

Introducing Super Hair Removal Technology (SHR) – a revolutionary new method for hair removal that is virtually pain & side effect free.
In comparison to other slightly dated laser and IPL methods, SHR with Contact Cooling provides faster, safer and pain free hair reduction treatments for clients with multiple shots but at lower Joules. This new method, also called In-Motion™ technology is utilised by moving the hand piece over the treated skin which contributes to the overall comfort felt by our customers during their hair reduction treatments.
CRYOLIPOLYSIS SLIMMING SYSTEM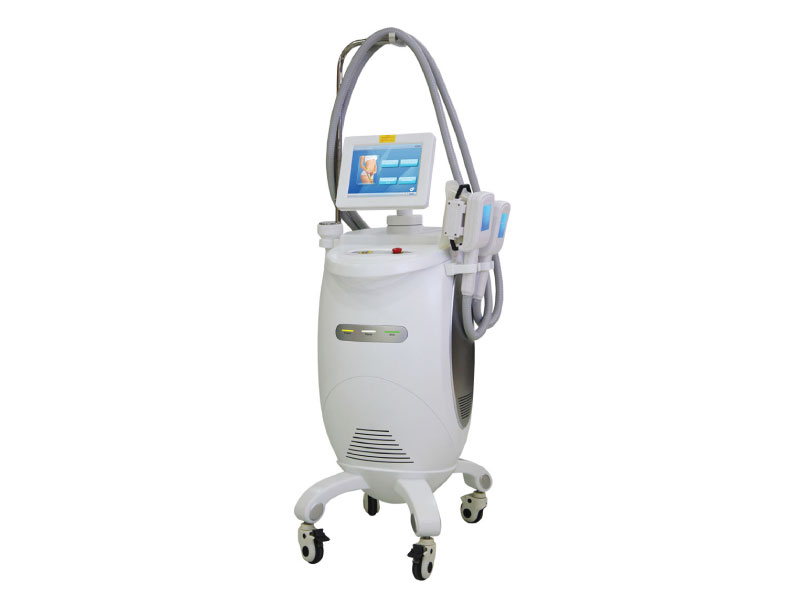 CRYOLIPOLYSIS SLIMMING SYSTEM
冷冻溶脂

The fat loss equipment utilizes the cryo and multi-frequency ultrasonic cavitations technology for body slimming. The multi-frequency ultrasonic cavitation will melt the freezing solidified fat cells, so that accelerate aging of fat cells and rapidly eliminate. Ultimately it can achieve long-term slimming of local depth.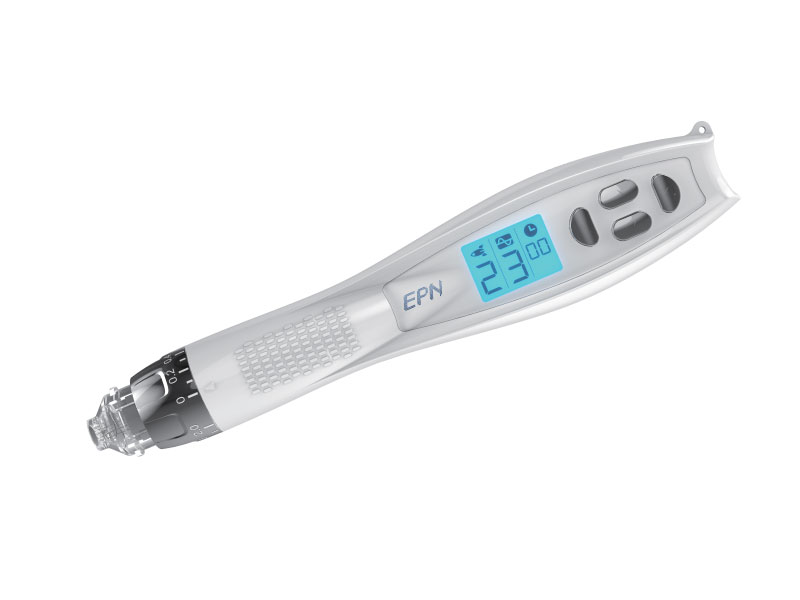 ELECTROPORATION NEEDLE
电穿孔微针

EPN is the abbreviation of Electroporation Needle. It is a therapy to rejuvenate the skin using micro needles stimulating the mesoderm (middle layer of skin) without any scarring and boosting the natural skin healing process and the collagen rearranging process.
It is the newest innovative drug delivering device to deliver the drug directly to the skin, to give appropriate stimulation to the area without damage of the skin.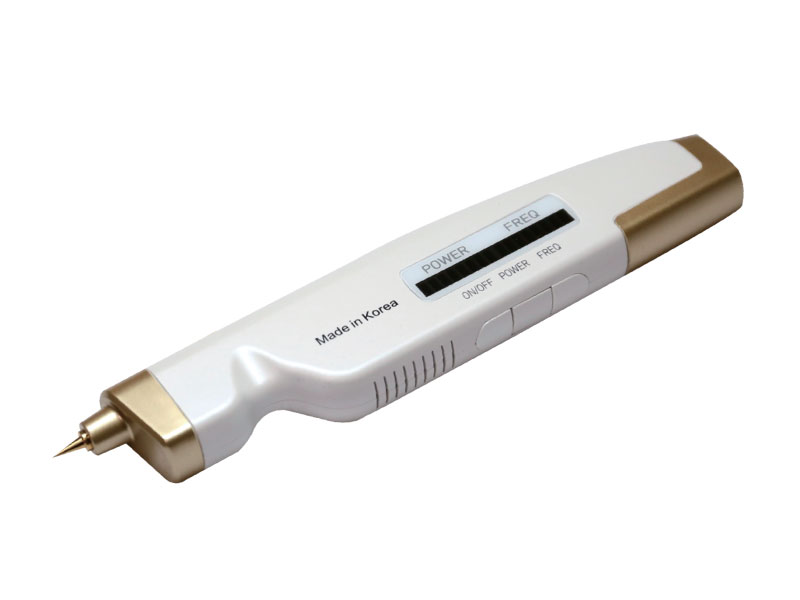 BEAUTY CLEANSER
微型美容除痣器

Beauty Cleanser is for taking out of Skin tag, spot, syringoma and milium from the skin with really simple way.
Beauty Cleanser promote epidermal cell necrosis. It makes coagulation, can remove the blemish on the skin surface in an instant, such a wart, freckles, granulation, moles and so on, without bleeding, no scarring, and the effect is obvious.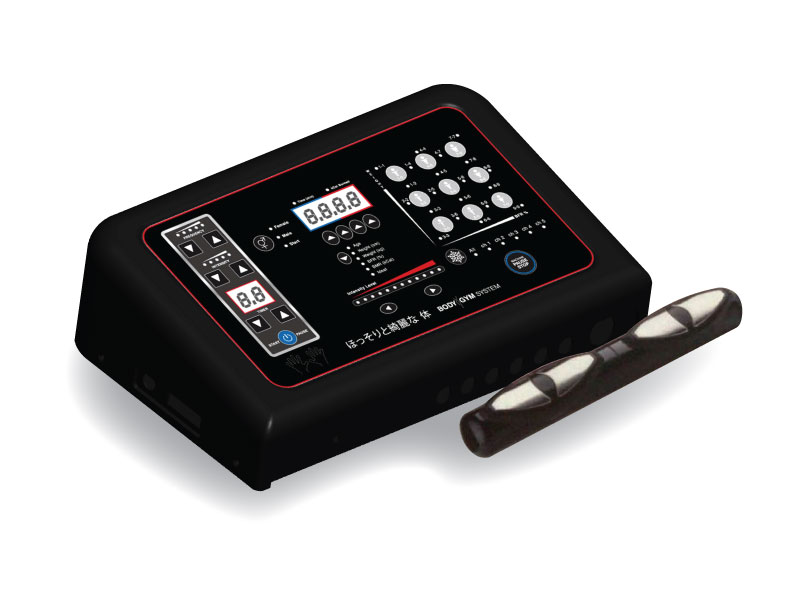 BODY GYM SYSTEM
高智能AI瘦身多功能美容仪

有效对抗体脂肪从了解自我体型开始!
轻松检测出您每日基本的卡路里消耗及基础代谢功能,再透过精密计算,同步安排适合您的舒适体循环代谢疗程,让您轻松体会心机瘦身美学。
尖端技术 科学瘦身
Body Gym System is one of the most professional and powerful body sculpting machine on the market combining 3 advanced technologies of microcurrent and bioelectricity in one single platform. It provides non-invasive and advanced facial and body care treatment.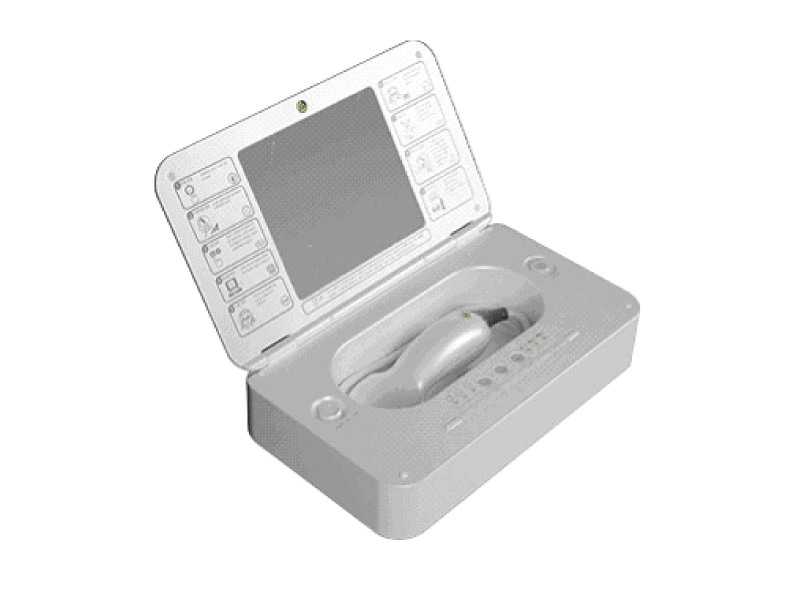 EOSIKA SC WRITS
Home Used Personal Skin Rejuvenation IPL Device
Eosika SC WRITS is a modified portable IPL for home application. The use of IPL was formerly limited to salons. But now, you can enjoy the benefits of intense pulsed light at the comfort and convenience of your own home.
Medical grade IPL products may occasionally require anaesthesia on the face, because of their higher energy level, which may cause burning if not used appropriately.
Eosika SC WRITS is a home-use IPL device which features energy level suitable for skin anti-ageing that doesn't require any anaesthesia, and it doesn't subject the user to burn injuries. It's perfect for personal skin care needs.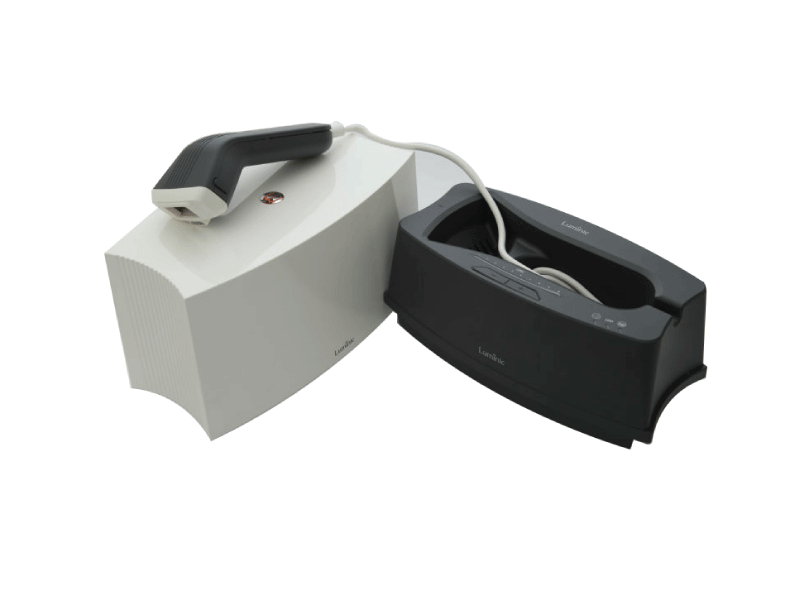 EOSIKA SIPL- II
Portable Home Use IPL for Skin Rejuvenation and Hair Removal
EOSIKA SIPL- II is the best and latest home based IPL hair removal and skin rejuvenation device. Using the intense pulsed light technology, EOSIKA SIPL- II can remove hair in 10-20 sessions permanently and painlessly.
Safe treatment with temperature control & skin touch control – output temperature on surface skin is 40-56 degree centigrade.
No need of cooling gel for skin type I & II, no burning risk, no harm and much less pain
No pulse light outputs unless treatment cartridge touches skin
Treat yourself a professional treatment at home
– Max 7J/cm2 to get good treatment result. EOSIKA SIPL- II has one handle with 2 lamps for both hair removal and skin rejuvenation treatment.
Long lifetime warranty for each lamp of EOSIKA SIPL- II
– 20,000 shots for Hair Removal lamp & 30,000 shots for Skin Rejuvenation lamp.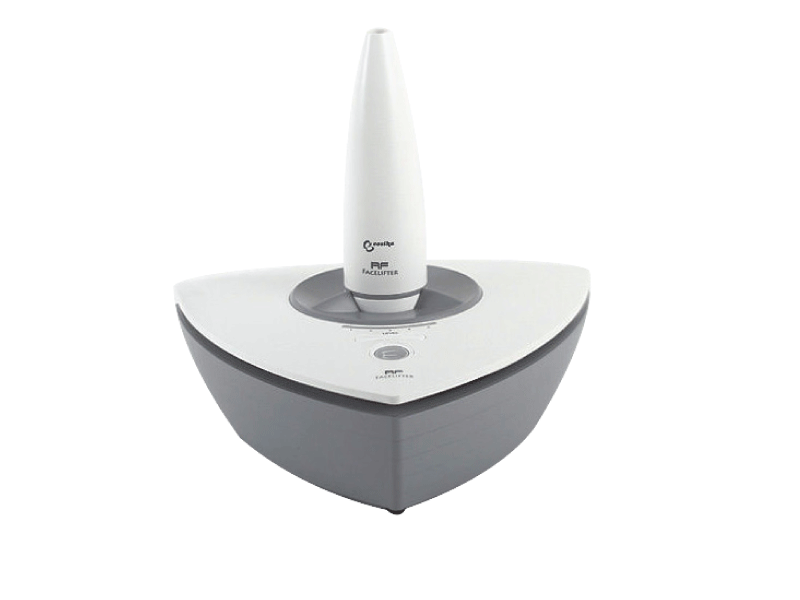 LUMINIC MINI RF
Portable Skin Rejuvenation and Tightening Device
LUMINIC MINI RF is a noninvasive treatment, meaning there is no cutting of the skin to perform it, which utilises mono polar radio frequency energy to tighten and tone the body and improve its contour.
LUMINIC MINI RF works by heating the under layer of the skin, known as the dermis. This heat causes collagen creation, called neocollagenesis. This new collagen makes the skin look firmer & tighter and improves the overall texture of the skin and the body shape. Unlike lasers, LUMINIC MINI RF procedures work on all skin types and colors.
Generally patients will usually undergo 8-10 treatment sessions with LUMINIC MINI RF, but some clients may see differences/improvements after 1-2 sessions. The LUMINIC MINI RF heats up and stimulate a large volume of collagen in the deeper layers of the skin. Results develop over time and tightening and lifting result can be seen in up to 3 months.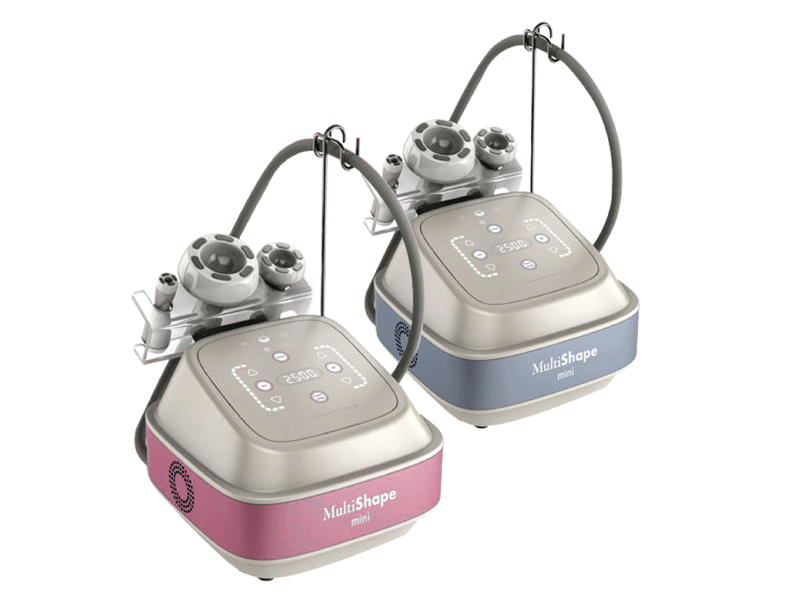 MULTISHAPE MINI
Latest RF + LED + Vaccum Suction Technology
The Latest Technology for Body Sculpting
MULTISHAPE MINI is Radio Frequency Vacuum Machine equipped with advanced multi-polar Radio Frequency combined with suction technology and LED.
This treatment can be applied on any part of the body resulting simultaneous increase in the dermal collagen and ground substance content, connective tissue architecture, and the decrease in subcutaneous fat tissue volume allow for circumferential reduction and improvement in cellulite appearance.
Fast and Visible Dramatic Result
Safe and Comfortable Treatment
Body remodeling and reshaping
Cellulite and Fat Reduction