Dry, very dry, atopic and allergy-prone skin
Dry skin is characterised by a low concentration of natural hydrating factors, metabolism disorders of epidermal lipids and disorders of the sebaceous glands. This makes the epidermis rough and dull, leads to hyperkeratosis and often causes persistent feeling of itchiness. Dry skin is often linked to atopic dermatitis – a chronic disease which causes excessive itching.
Inappropriate care of this skin type aggravates these ailments. LINUM EMOLIENT dermocosmetics by Dermedic constitute a complete line of emollients recommended for treatment of very dry and allergic skin, particularly skin suffering from atopic dermatitis.
The primary component of the entire product line is flaxseed oil which has anti-inflammatory, calming and anti-itch properties. It accelerates the regeneration of both the epidermis and dermis, it inhibits the growth of bacteria and facilitates the treatment of bedsores, ulcers and boils.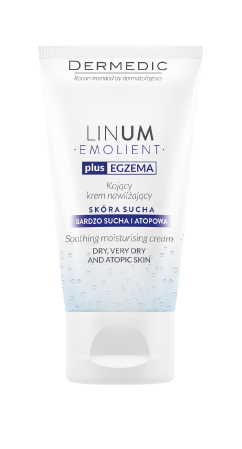 Soothing moisturizing cream 50g
Delivers a long-lasting moisturizing and nourishing effect
Creates a protective barrier on the skin by strengthening and rebuilding the skin's natural hydro-lipid layer
Absorbs quickly, does not leave a greasy film on the skin
Hypoallergenic
Flaxseed oil containing unsaturated fatty acids: Omega 3, Omega 6, Omega 9, Phytosqualan – Squalane, Glycerine, Shea butter, Sensiva S.C. 50
Apply a thin layer to a thoroughly cleansed face, spread gently. Apply minimum twice daily.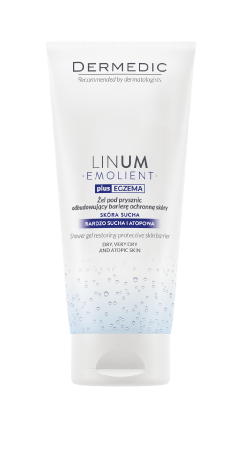 Gently cleanses the skin while respecting its lipid layer
Does not irritate demanding skin, and does not make it dry
Softens and smooths the skin
Has a positive effect on the regeneration of the epidermis
Ensures the correct level of hydration and nourishment
Hypoallergenic
Flaxseed oil containing unsaturated fatty acids: Omega 3, Omega 6, Omega 9, Macadamia oil, D-Panthenol, Allantoin
Apply a small amount to the palm of your hand or best, a cotton wash cloth. Gently clean your body, rinse thoroughly.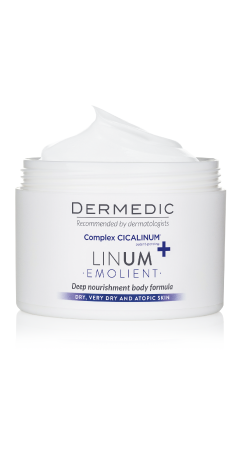 Ultra rich body cream 225g
It soothes and minimizes 6 symptoms of chronically dry and atopic skin including pruritus.
It restores the proper proportions of the intercellular lipids and the correct cohesion of the lipid epidermis.
It rebuilds its protective barrier layers to protect against irritating external factors and the penetration of allergens, bacteria and fungi.
It alleviates inflammation and regenerates skin lesions.
Minimizes symptoms of dry skin and AZS and risk of recurrence.
Clinically tested.
Cicalinum TM, Shea Butter. Cocao oil, SuperHartalon, Witamina E, Glicerin
Apply a thin layer of the preparation evenly to the skin and leave to absorb. Also suitable for hand and foot skin care as well as elbows, ankles and knees.