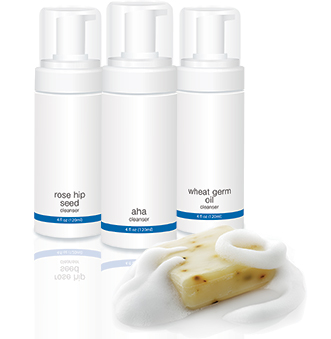 Private Label Skincare for
Foamers
Foamers are both convenient and appropriate for everyday use. The foaming action helps for widespread coverage, offering maximum skin refreshment and a thorough wash.

AHA FOAMING CLEANSER
A softening and thorough face wash that contains Glycolic Acid. AHA Cleanser visibly lifts dirt, oil and dead cells to reveal smoother, healthier, brighter-looking skin.
Provides deep cleansing
Effectively treats problematic & oily skin
ROSE HIP SEED FOAMING CLEANSER

ROSE HIP SEED FOAMING CLEANSER
A gentle but powerful cleanser enriched with a combination of Rose Hip Seed Oil, Olive Oil Castile, Seaweed, and Oil of Kumquat to provide a complete spectrum of skin nourishment and protection every time you cleanse. Your skin is left feeling fresh and glowing.
Thorough cleansing
Removes makeup and impurities
WHEAT GERM OIL FOAMING CLEANSER

WHEAT GERM OIL FOAMING CLEANSER
Nature's revolutionary ingredient, Wheat Germ Oil effectively cleanses and rejuvenates dehydrated skin.
Visibly lifts dirt, oil and impurities from the skin as it soothes and softens. Effective gentle cleansing for dehydrated skin.
Removes makeup and impurities
Naturally moisturizes