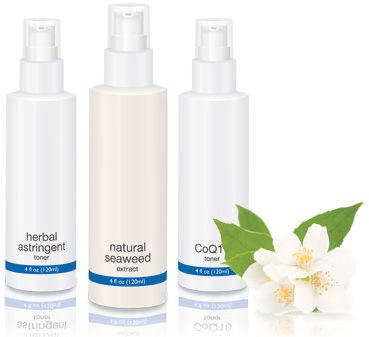 Private Label Skincare for
Toners
After cleansing, toners are known as an important step in your skin care regime to further remove excess impurities and oil, tighten pores and improve texture and tone while restoring the skins ph balance.
Use of our uniquely formulated toners will prepare skin to receive the full benefits of your moisturizer.
C0Q10 TONER
Delivered deep into the skin via innovative nanoparticles, in a nourishing mix of botanical extracts, this skin exciting formula provides moisturizing, skin tightening and radiant complexion benefits.
Cosmetic Solutions' CoQ10 Toner is a skin toning dynamo, delivering cell invigorating CoQ10 coenzymes deep into the cells with powerful antioxidant and skin protecting effect which helps to provide a natural and tranquil pH balance for the skin.
Improves concentration of CoQ10 levels in skin cells
Helps increase the energy production in cells
Absorbs damage otherwise imparted by oxidizing agents and free radicals
HERBAL ASTRINGENT TONER
Cosmetic Solutions' Herbal Astringent Toner is a pore- shrinking specialty; expertly crafted with a blend of astringent Herbal Extracts, along with the well know Witch-Hazel Extract.
This combination of the astringent quality's of a toner and the specific actives selected to achieve such qualities, set Cosmetic Solution's Herbal Astringent Toner as the most relevant and useful toner, whenever tighter skin and problematic skin is concerned.
Helps shrink skin pores
Helps balance pH levels
Helps tighten and protect the skin
Uses safe and natural herbal astringents
NATURAL SEAWEED EXTRACT TONER

NATURAL SEAWEED EXTRACT TONER
Nature's most nutrient-rich plant hydrates and softens while balancing the skin's natural pH, to minimize irritation and enhance the skin's ability to repair itself.
Balances natural pH levels
Hydrates and softens skin